An overwhelming majority of Republican legislators in California earned scores of 50 percent or more on the 2018 Legislative Scorecard compiled by Equality California, the statewide LGBT advocacy group.
Viewing 1 thru 12 of 264 Stories
The San Francisco Board of Supervisors honored former supervisor Harry Britt at its meeting Tuesday.
With a new year comes new leadership for San Francisco's two LGBT Democratic clubs. While the more moderate Alice B. Toklas club stuck to its usual cordial hand off of power, the progressive Harvey Milk club's board election was far more acrimonious.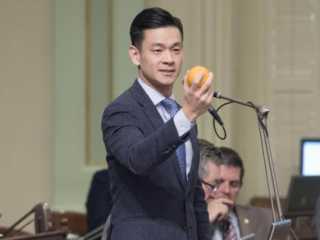 As he works to build support among religious leaders for a ban on the practice of conversion therapy, gay Assemblyman Evan Low (D-Campbell) has ruled out granting them an exemption in his legislation.
At a ceremony that put the historic significance of his swearing-in front and center, Ricardo Lara took his oath of office as state insurance commissioner Monday to become California's first LGBT elected statewide officer.
By a 7-4 vote, the San Francisco Board of Supervisors elected District 7 Supervisor Norman Yee its new president Tuesday after hearing hours of testimony from the public about who should be handed the gavel.
Leaders of the Alice B. Toklas LGBT Democratic Club are calling on San Francisco Mayor London Breed to replace longtime board members overseeing the city's transit agency.
The California Legislative LGBT Caucus has elected gay state Senator Scott Wiener (D-San Francisco) as the group's new chair. Wiener, now in his third year of a four-year term, will serve in the position through the end of 2020.
In a unanimous vote Monday (January 7), lesbian Oakland City Councilwoman Rebecca Kaplan (at-large) was elected president of the body.
Naming a new health department head, city librarian, and fire chief, as well as a new school board member, awaits San Francisco Mayor London Breed in early 2019.
All good things eventually hit the end of the road, as the proverb portends. So it is with what has been a yearly tradition for the Political Notebook.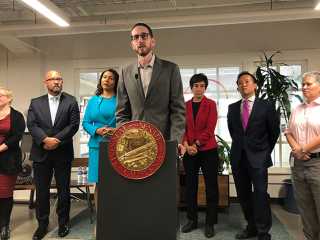 While his bills aimed at addressing California's housing crisis are expected to be some of the most closely watched legislative fights this year, gay state Senator Scott Wiener will also be pushing to pass legislation focused on LGBT issues.
A special op-art drawing looks at the Bay Area's housing crisis.
Viewing 1 thru 12 of 264 Stories