A quartet of out East Bay elected officials will automatically be sworn into new terms as no one filed to challenge them on the fall ballot.
Viewing 1 thru 12 of 494 Stories
In 2018, when Justin Sha sought a Fremont City Council seat, his ballot designation told voters he was an "entrepreneur/law clerk." Yet having graduated from UC Hastings College of the Law that year, Sha also claimed to be a lawyer.
Longtime organizer Karine Jean-Pierre has been named chief of staff for Democratic presumptive vice presidential nominee Senator Kamala Harris (D-California).
A debate with five candidates seeking to be San Francisco's next District 7 supervisor highlighted the various policy differences — and a few agreements — between the quintet of contenders for the open seat.
Professional photographer and branding consultant Brittni Kiick is aiming to become the first LGBTQ person to serve on the Livermore City Council in the East Bay's Tri-Valley area.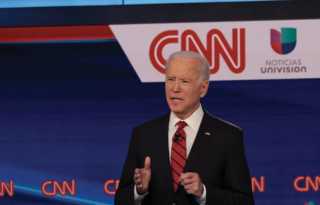 Joe Biden is seeking to one-up President Trump on the fight against HIV by pledging to end the epidemic by 2025 — an ambitious goal that would beat the current administration's goal by five years, although some HIV advocates are skeptical the presidential
Last summer, gay Tracy City Councilman Dan Tavares Arriola was recuperating from being hit by a car in downtown Stockton after attending an LGBTQ event where he was an invited speaker.
The former campaign manager for Shahid Buttar, the democratic socialist running against House Speaker Nancy Pelosi (D-San Francisco), is breaking her silence about what she describes as a "toxic workplace environment."
An abortion rights group and a statewide LGBTQ rights organization in late July endorsed a number of LGBTQ candidates running for either state or local office this fall across California.
Green Party presidential candidate Howie Hawkins and his running mate Angela Walker, who is bisexual and was the Socialist Party's vice presidential candidate in 2016, are fighting to get onto the fall ballot in all 50 states.
The San Francisco Democratic Party is backing a slate of progressive supervisor candidates as its top choices in the six races for the odd-numbered districts that are on the November ballot.
Progressive Shahid Buttar, an attorney and deejay who is challenging House Speaker Nancy Pelosi (D-San Francisco) for her seat on the November ballot, is facing charges of sexual harassment by a woman he knew in Washington, D.C.
Two out female nonprofit leaders are running for seats on the Santa Cruz City Council this November, two years after current Vice Mayor Donna Meyers became the first lesbian elected to the liberal coastal city's governing body.
Viewing 1 thru 12 of 494 Stories