The tapes of the landmark 2010 Perry v. Schwarzenegger trial will not be released Wednesday due to a temporary stay ordered by the United States 9th Circuit Court of Appeals August 11.
Viewing 1 thru 12 of 4171 Stories
Here are the Bay Area Reporter's recommendations for the California propositions on the November 3 ballot.
A Sonoma County gay couple allege that a man in their neighborhood has waged a campaign of homophobic harassment against them, and has continued even after they received temporary restraining orders against him.
On the two-year anniversary of the gruesome killing of Brian Egg, the case remains unsolved and neighbors are expressing a growing concern over squatters they say have taken over the South of Market house where the 65-year-old gay man had lived.
The number of out women in elected municipal positions in San Francisco has no chance of increasing this year, as it appears only one female LGBTQ candidate filed to run for a local race this fall.
San Francisco native Eric Curry always had a fondness for animals. At age 9 Curry found a cat lying in the middle of the road not far from his parents home and asked his father if he could keep it.
Magnet, the sexual health clinic located at the Strut community health center in the Castro, has quietly rolled out services to people of all gender identities and sexual orientations.
Warsaw police clashed with — and arrested — Polish LGBTQ and ally demonstrators last weekend.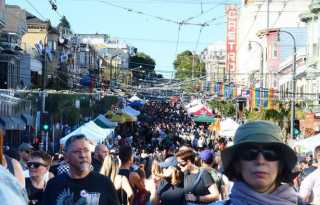 The Castro Street Fair will not take place in person this year due to COVID-19, according to remarks made by Fred Lopez, a member of the fair's board of directors, at an August 6 virtual meeting of the Castro Merchants association.
There really wasn't a lot out there that was aimed at me when I was a young, closeted trans kid growing up in the suburbs.
This week's letters to the editor.
Longtime organizer Karine Jean-Pierre has been named chief of staff for Democratic presumptive vice presidential nominee Senator Kamala Harris (D-California).
A quartet of out East Bay elected officials will automatically be sworn into new terms as no one filed to challenge them on the fall ballot.
Viewing 1 thru 12 of 4171 Stories