California will no longer allow taxpayer funds to be used for state employees to travel to Iowa due to the state's implementation of a discriminatory transgender law.
Viewing 1 thru 12 of 3051 Stories
Papi Rico, the Mexican cantina at 544 Castro Street, served its last margarita Sunday night as proprietor Rick Hamer decided to close the 16-month-old bar and restaurant.
Early in "Mack Wrestles," a 30-minute documentary about transgender wrestler Mack Beggs that premieres on ESPN's "30 for 30" Sunday, September 22, his grandmother talks about her grandchild's early struggles with self-acceptance.
No LGBT-specific issues came up during the third national Democratic presidential debate September 12.
State Senator Scott Wiener announced Friday that he was punting legislation aimed at improving conditions for transgender inmates to the 2020 legislative session.
Michael William Magidson, the last of the four murderers of trans teen Gwen Araujo who is still in prison, was denied parole this week during a hearing at Valley State Prison in Chowchilla, California where he is being held.
As she drives her beat up jeep with her dog, Bodhi, by her side through the Women's Land all-female community in Willits, California, Sally Gearhart reminisces about working side-by-side with the late gay San Francisco supervisor Harvey Milk.
The news Tuesday that San Francisco had fewer than 200 new HIV infections in 2018 was greeted with the praise it deserves.
Maria Cadenas, a lesbian single mother and nonprofit leader, has entered the 2020 race to succeed state Senator Bill Monning (D-Carmel), who is termed out of his 17th Senate District seat along the Central Coast.
Pledging to fight "shoulder to shoulder" with the LGBT community, California Lieutenant Governor Eleni Kounalakis told a group of mostly women that issues such as immigration, climate change, and trade are key to the state's success.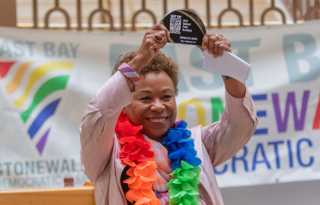 Congresswoman Barbara Lee got a standing ovation at Sunday's East Bay Stonewall Democratic Club's Pride breakfast, as she said she would continue to fight for equality for all.
We see around us every day that what's happening on our streets isn't working.
We San Franciscans are blessed to live in a city that celebrates our rich diversity, where we find sanctuary with one another.
Viewing 1 thru 12 of 3051 Stories