In response to the latest racial violence and killings of transgender people across the country, leaders of 75 LGBTQ advocacy groups in the U.S. issued a joint statement Friday recommitting themselves and their organizations to addressing racism.
Viewing 1 thru 12 of 657 Stories
Police made an arrest in an alleged attempted kidnapping in the Castro neighborhood May 27 and in a separate incident, a small fire broke out May 29.
As she heads into a rough summer and fall campaign season, queer San Diego City Councilwoman Georgette Gómez has picked up the endorsement of the Human Rights Campaign.
Indoor retail businesses, outdoor dining, and other outdoor activities will legally be allowed to resume in San Francisco on June 15, assuming key COVID-19 benchmarks from the state government are met, according to Mayor London Breed.
U.S. Ambassador to Germany Richard Grenell plans to step down from his post.
Gay District 8 Supervisor Rafael Mandelman hosted an online town hall May 27 to answer questions about the recent Mission District shooting that killed a bisexual transit advocate and injured one other.
It's another cancellation as a result of the ongoing coronavirus pandemic.
Larry Kramer — the New York City-based gay playwright and author whose involvement in the Gay Men's Health Crisis and ACT UP changed the course of the AIDS epidemic — died May 27. He was 84
Oakland Mayor Libby Schaaf is backing gay restaurant owner and political newcomer Derreck Johnson in the fall race for the city council's at-large seat, currently held by lesbian City Council President Rebecca Kaplan.
At 15 years of age Ewan Barker Plummer is already attuned to politics and civic affairs.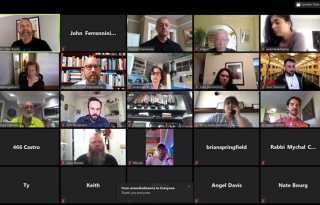 Castro Street between Market and 19th streets is one location that is being considered for partial closure to vehicular traffic so that dine-in restaurants can reopen, according to Jacob Bintliff, legislative aide to Supervisor Rafael Mandelman.
It doesn't seem imaginable today, with travelers largely avoiding airports due to the novel coronavirus outbreak, but in a few years passengers departing flights through Harvey Milk Terminal 1 at SFO may not be in such a rush to leave the facility.
The Stud, San Francisco's oldest continuously-operating LGBT club, will be closing its doors permanently, according to a news release from Honey Mahogany, a co-owner of the South of Market establishment.
Viewing 1 thru 12 of 657 Stories