The tapes of the landmark 2010 Perry v. Schwarzenegger trial will not be released Wednesday due to a temporary stay ordered by the United States 9th Circuit Court of Appeals August 11.
Viewing 1 thru 12 of 776 Stories
Longtime organizer Karine Jean-Pierre has been named chief of staff for Democratic presumptive vice presidential nominee Senator Kamala Harris (D-California).
A quartet of out East Bay elected officials will automatically be sworn into new terms as no one filed to challenge them on the fall ballot.
Its normal schedule of high-priced fundraising dinners in cities around the state upended by the novel coronavirus outbreak, LGBTQ rights organization Equality California is pivoting to holding one star-studded statewide awards ceremony this fall.
California Senator Kamala Harris was selected by presumptive Democratic Party presidential nominee Joseph R. Biden Jr. Tuesday to be his running mate on the party's 2020 ticket.
Several dozen San Francisco police and city officials from the Healthy Streets Operations were clearing the block-long homeless encampment Tuesday morning on Noe Street between Duboce and 15th streets, adjacent to California Pacific Medical Center.
The San Francisco Board of Supervisors rules committee voted 3-0 Monday, August 10, to recommend the nominations of two women to the San Francisco Municipal Transportation Agency's board.
The National Organization of Gay and Lesbian Scientists and Technical Professionals is offering a fellowship award for development of transgender, intersex, and nonbinary professionals in STEM fields.
A debate with five candidates seeking to be San Francisco's next District 7 supervisor highlighted the various policy differences — and a few agreements — between the quintet of contenders for the open seat.
While the big news coming out of Thursday's virtual Castro Merchants association meeting was the cancelation of the in-person Castro Street Fair, other topics — such as the neighborhood's struggle with homelessness - were discussed by city officials.
Professional photographer and branding consultant Brittni Kiick is aiming to become the first LGBTQ person to serve on the Livermore City Council in the East Bay's Tri-Valley area.
The Castro Street Fair will not take place in person as usual this year due to COVID-19, according to remarks made by Fred Lopez, a member of the fair's board of directors, at an August 6 virtual meeting of the Castro Merchants association.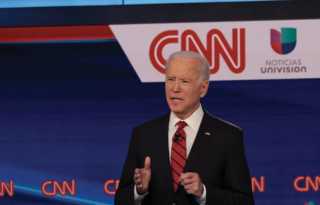 Joe Biden is seeking to one-up President Trump on the fight against HIV by pledging to end the epidemic by 2025 — an ambitious goal that would beat the current administration's goal by five years, although some HIV advocates are skeptical the presidential
Viewing 1 thru 12 of 776 Stories