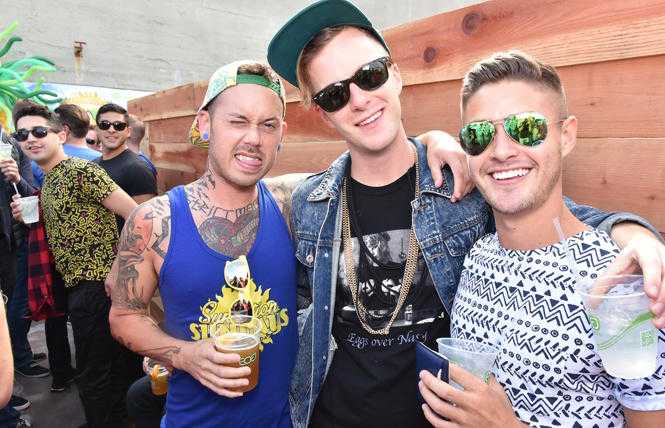 Good news for nightlife fans. Oasis, the popular SoMa nightclub, announced plans to re-open its rooftop bar on August 14, with proper social distancing rules in effect Fridays through Sundays.
Viewing 1 thru 12 of 616 Stories
Marga Gomez returns to host the hit comedy series, Who's Your Mami Comedy. This time it's online, with headliner Laurie Kilmartin, pluis Dhaya Lakshminarayanan, Suni Reyes, Dominique Gelin, and Jesús U. BettaWork.
Music, comedy, theatre and community forums will get you through the next week of our collective endurance. Mask and ye shall receive.
Another Zoom opening, another show - online, of course. When you're not masking up outside, enjoy arts, nightlife and community events at home.
The Castro nightclub Badlands at 4121 18th Street will not be reopening, according to a post on its Facebook page.
Moby Dick, the popular Castro district bar, is raising funds for employees and the owners' expenses in two online fundraisers.
Up Your I.P.! Sorry, but nearly every event is online, including the otherwise public kinkfest Up Your Alley street fair. But that doesn't mean you can't have fun, so long as your router's rooting and your IP's percolating.
Polly Polaroid was a presence for around two decades in the gay bars of San Francisco — and yet no one seemed to remember her story. She would make her rounds in the bars, saying "Photo to remember the evening?" to all patrons — and yet she disappeared an
Happy Blursday. When is that Zoom drag bake sale fundraiser string quartet? We'll do our best to delineate one event from another amid the midsummer maskness.
Choreographer Rory Davis (Baloney and multiple drag shows) enjoyed a few celebrity guests one of his recent 'Roryography' dance classes, including Darren Criss and John Stamos.
Along with their weekly cavalcade of online entertainments, host D'Arcy Drollinger takes on current events in a dishy blend of 'Talk Soup' and 'Drag Race.'
A new scholarly project at Cal State Fullerton, created by Assistant Professor Eric Gonzaba, maps LGBT bars, cafes and hotels from the historic Bob Damron's Gay Guides.
Disco icon Sylvester's 'Step II' album has been reissued, and a short online documentary tells the story of his fabulous yet too-brief career and life.
Viewing 1 thru 12 of 616 Stories