The Sisters of Perpetual Indulgence celebrated Pride in the Westfield San Francisco Center on Friday June 28 with a happy hour disco party at Bespoke.
Viewing 1 thru 12 of 38 Stories
"Wham!" "Blam!" Thank you ma'am (and sir). On Sunday night, The Richmond Ermet Aid Foundation sponsored its fourth annual Broadway Bares. San Francisco Strips IV, the Comic Strips edition, wowed a sold-out crowd at DNA Lounge on Sunday June 16.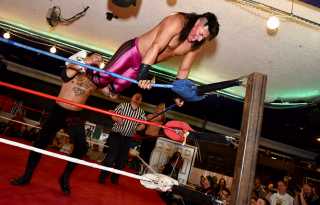 On Thursday, June 13, pro wrestlers fly into the center ring for a Pride event that offers something a little bit different. Pro wrestlers at El Toro's SF Slam10: Pride On The Line, with host Pollo Del Mar!
Fabulous frocks and fashions, and talented entertainers highlighted the St. James Infirmary gala, held at Terra Gallery on June 3. Performers included singers Jennifer Holliday and Lawrence Beamen, comic Marga Gomez, and the Justin Rock Trio.
The makers of local beer Anchor Steam are stepping up their support of San Francisco's LGBT Center, with a portion of sales through June going to the Center.
Disco Coalition, the weekly fundraiser happy hour at Lookout, continues each Friday, 5pm-8pm. Various local nonprofits benefit from your donations while you enjoy drinks and a terrific view of the Castro; through June 21.
The National Center for Lesbian Rights celebrated its 42nd anniversary on May 18 at the Marriott Marquis with a VIP dinner, dancing, face-painting and entertainment afterward at Metreon City View.
Equality California's annual awards gala, held at the Fairmont Hotel on May 11, included presentations of the Vanguard Leadership Award, presented by SF Mayor London Breed to Hon. Scott Weiner, who also got a birthday cake.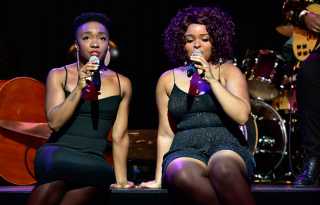 Cast members from the touring production of the musical Charlie and the Chocolate Factory performed a variety of songs, skits and comedy sketches with host Ellie Monae.
Las Vegas-based illusionist Jack Alexander will bring his sleek new stage show, Express, to Oasis next weekend in two benefit performances for the Richmond/Ermet Aid Foundation (REAF).
While fundraisers and drag queens are commonplace in the Castro, it's rare that 100 percent of the proceeds from a three-hour Friday event goes to a great cause. Enter The Disco Coalition.
On some level, creating community is a numbers game. The more times you try, the more times you succeed. Sometimes you have to throw lots of stuff against the wall to see what sticks.
The recent news of the two-year lease extension to historic LGBTQ bar The Stud had fans cheering. To help pay their rent and bills, the bar's collective owners are competing in a $50,000 grant opportunity funded by Federal Express.
Viewing 1 thru 12 of 38 Stories