Tim Lewis has been making music and defining the visual landscape of San Francisco for over forty years. There have been peaks during this period when he was playing as many as three gigs a night, and lows where it has been weeks before performances.
On the list of things that made composer Harry Partch unique, sexuality is admittedly a minor factor. More unusually, he gave two talks on his music at Opus One, which was both a classical music bar and gay bar in North Beach.
Found treasure that tells the tale of personal history is a story that has been repeated many times. When some silkscreens of drag performer Doris Fish were discovered, a lost legacy became reborn.
One thing about Fe-Be's that most people know it is that it was the first leather bar on Folsom Street. If there is a second thing people know, it's that the bar was the place that the iconic "Leather David" was born. But there's more to the bar's story.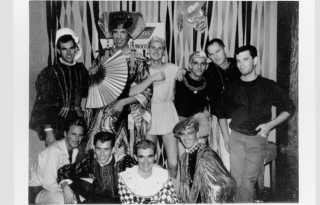 James "Robbie" Robinson visited San Francisco while stationed at Parks Air Force base in the East Bay in 1957. After being cruised on Market Street, the man led him to the Silver Dollar Bar. His visit began a gay journey in creating community.
Fourteen years after the original Detour Bar closed, mention of it evokes strong memories for patrons, especially after news of a new very different bar taking its name. Let's recall the sexy, cruisy original.
Unlike 1969's Stonewall, disturbances in San Francisco started over job rights. Because the disturbances spread and issues multiplied, they would eventually include at least three bars, including Oakland's White Horse.
Paranoia, red-baiting and homophobia swept across the United States in the early 1950s like a cold fire, and San Francisco was not exempt from its reach. The vile Joseph McCarthy and his toady Roy Cohn engaged the country in the Army-McCarthy hearings.
Don Cavallo, a multi-talented restaurateur, actor and singer was also one of the first writers for the Bay Area Reporter. He seized the scene in San Francisco and made it his own from his 20s on, including opening the Fickle Fox.
Ann and Maxine Weldon from Bakersfield, performed in clubs beginning in the 1950s, and developed relationships with their gay audiences that came to benefit both the audience and the performers.
The GLBT Historical Society and Museum is presenting the exhibition 'SoMa Nights: The Queer Nightclub Photography Of Melissa Hawkins,' curated by photographer Hawkins and nightlife historian Marke B.
Lenny Mollet was a Grand Duke of the Ducal Court, the president of the Tavern Guild, and one of a generation of gay men who fought for a place of their own in the city. He owned a gay bar in San Francisco a decade and a half before the Stonewall riots.