Narrated by the iconic actor Harvey Fierstein, 'Disarm Hate' seeks to create awareness about gun violence against the LGBTQ+ community following the 2016 Pulse Nightclub massacre in Orlando that took 49 lives.
Kicking off with a high-flying drag satire, Frameline44, the SF International LGBTQ+ Film Festival, will screen 77 films from 24 countries in a wide array of genres, from features and documentaries to short subjects and animated films.
Howard, the new documentary on the life and career of gay lyricist Howard Ashman, encompasses the joy of creating now-classic musical animated features, and his tragic decline and death from AIDS.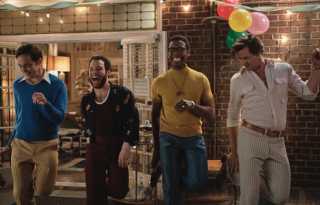 Ryan Murphy's film adaptation of the star-filled 2018 Broadway revival of Mart Crowley's historic play, The Boys in the Band, will be released online September 30.
'Hollywood Bound,' a coffee table book published by Reel Art Press, isn't about starstruck kids heading to Tinseltown in search of stardom. Rather, it's a picture book featuring black and white photos of movie stars either tied up or in chains.
The annual Los Angeles OutFest LGBT film festival screens a diverse array of narrative, documentary and short films, all online, through August 30.
'Monstrous,' the new chiller available on DVD and on-demand August 11, is a film which claims to be a Bigfoot movie. Actually, the legendary monster makes but a few brief cameos in the film.
Dark drama, enlightening documentary and a psychedelic romp: 'The Prince/El Principe,' 'For They Know Not What They Do' and 'Holy Trinity' are reviewed.
Seeing as how 'Jack & Yaya' is first-time co-directors Jen Bagley and Mary Hewey's full-length documentary debut, Bagley and Hewey get more right than wrong in their rendering of this touching true story.
The new documentary by Dawn Porter, 'John Lewis: Good Trouble,' makes no pretense of being anything but a paean to Lewis's life and activist work.
For her feature-length directorial debut, Karen Maine doesn't shy away from subject matter that hasn't gotten the attention it deserves. In the case of 'Yes, God, Yes,' the hot button topic (so to speak) is female masturbation.
Portrait of a Lady on Fire, just released on Blu-ray DVD, is one of the best lesbian films ever made, nominated for nine Cesar Awards. A sensual dreamy romance about forbidden love and the healing potentiality of art, it also analyzes how desire works.