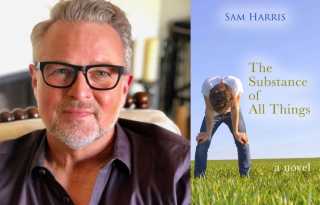 Sam Harris certainly won't be singing in the Bay Area for the foreseeable future. But he's doubled-down as an author. His second book, 'The Substance of All Things,' was published July 1. It's a novel. And it's a knockout.
Church history, scandals and hypocrisy and international intrigue set in San Francisco and Italy make the author's debut novel an interesting read.
The incurable hotness of French Author Hervé Guibert owes nothing to the timely and shattering content of his mind and the publication of a most original work, 'Written in Invisible Ink,' published decades after his death from AIDS in 1991.
Whether you sat out the Pride season by keeping your observances at a social distance or you took to the streets in honor of the 50th anniversary of the first Pride march, having reading materials on hand to augment the celebration is always a good idea.
The premise of Carter Sickels' novel 'The Prettiest Star' is one that is very much based on the kind of real circumstances many gay men grappled with in the AIDS years of the 1980s.
In one of the more creative stay-at-home projects, gay singer-songwriter Eric Himan offers a sweet tribute to the collective history of our "Local Gay Bookstore."
Tomasz Jedrowski's debut novel 'Swimming in the Dark' tells a time-honored story, gay first love, in a setting that has become all but expected in gay literary fiction: Eastern Europe under the dark clouds of political oppression.
In his memoir 'A Tale of Two Tims: Big Ol' Baptist, Big Ol' Gay, Tim Seelig shares the story of his incredible life, from his roots among devout Southern Baptists, to his work with what is perhaps the most famous gay chorus in the world.
We love comics, specifically gay ones. So when Northwest Press announced its fundraiser for a new graphic novel, we had to spread the news.
The town of Guerneville and the Russian River area are lovingly portrayed in Mark Abramson's latest, 'River Days, River Nights.' The memoir covers the period from 1976 through 1984, an era of considerable change for the region.
As the main creator of the Hi-NRG music genre, Patrick Cowley briefly thrived on the dance music charts with originality and ferocity. Cowley's posthumously published diaries document his short life in 1970s gay dance and music scene.
Not only did Larry Kramer's writings and protests save millions of lives by shifting national health policy on AIDS, enabling effective treatment to reach PWAs, but his literary works mark a pivotal time in American gay lives.