James Tissot's frisson of fashion & faith
Tuesday Oct 22, 2019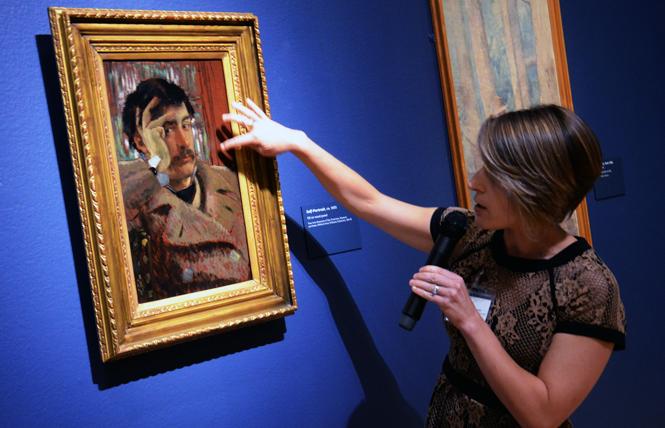 The 19th-century French painter James Tissot may be the greatest artist many people know next to nothing about. Despite being a successful international art-star in his day, and his friendships with Monet, Manet and Degas, he is nowhere near as well-known as his contemporaries are today. "James Tissot: Fashion & Faith," an original, six years-in-the-making exhibition now at the Legion of Honor, means to change that and triumphs in the process.

Sophisticated, technically accomplished and with a gracious, unerring eye for beauty, costume and theatrical settings, Tissot takes the viewer into heightened scenes with a cinematic flair that has influenced filmmakers from D.W. Griffith, William Wyler and Steven Spielberg to Martin Scorsese, who decorated the mansions of New York's elite with Tissot reproductions in "The Age of Innocence." Whether it's a glittering ballroom with exquisitely appointed society women adorned in layers of plush fabrics (a Tissot signature); a picnic in the park with a lively coterie of friends, whose bonhomie recalls Renoir's "Luncheon of the Boating Party"; or a bridesmaid in a smart, robin's-egg blue suit bidding adieu to a bride nestled inside a carriage on a bustling city street, his paintings inspire an uncanny "I am there" feeling.

Curated by the Fine Arts Museums' Melissa Buron, the scholarly, superbly installed show, organized mostly along thematic lines, reveals aspects of the artist's fascinating biography, a story underpinned by the tragic loss of the love of his life, a devastating blow that would haunt him and his work. It also covers his early Medievalist period, his remunerative reign as a high society painter in London and Paris, his experiments with etching and cloisonné, self-portraits as both an older and younger man, and a selection from over 700 emotionally stirring Biblical illustrations, 350 of which are watercolors. The latter, reportedly so moving some viewers knelt and wept at the sight of them, were created during his final two decades, when he all but sequestered himself at his father's estate in France. The tour of his religious works, which stretched from Europe to U.S. shores, brought him even more acclaim than he had achieved addressing secular subjects. Tissot's turn toward spiritualism, which involved visions and pilgrimages to the Holy Land, followed the death of Kathleen Newton, his muse, and lover, who succumbed to tuberculosis at the age of 28 in 1882. Eighteen years his junior, she was divorced with children; according to the mores of the period, they couldn't marry, though they lived together in London for 12 years. Grief-stricken and bereft after she died, Tissot promptly returned to Paris. Dubbed "La Mysterieuse" because tantalizingly little was known about her, Newton is the subject of 10 paintings here. One can witness the course of her physical decline, but in "October" (1877), the first painting visitors will encounter, she's still an exuberant, lovely young woman. Dressed in a stylish black ensemble and matching broad-brimmed hat, a book snugly tucked under her arm, she momentarily glances back as she's about to gallivant into a veil of bright autumn leaves. Elsewhere, she's a vision in head-to-toe yellow, ensconced in cascading rows of ruffles and satin ribbons; a woman as daffodil, yet very much her own person, venturing warily into the fray in "Evening," aka "The Ball" (1878).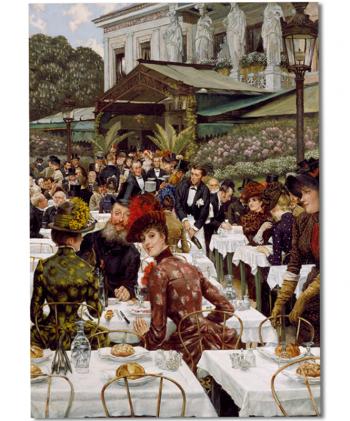 The show opens with one of its most enchanting sections, "La Femme a Paris." Tissot only completed 15 of this projected series of large-scale, sumptuous paintings of glamorous Parisian women, five of which are on view. Among them is "Provincial Woman" (1883-85), where a socialite in a ruched, pale pink, formal dress, with an elaborate pleated train, chats with friends at a gala soiree, festivities made luminous by Tissot's textured, virtuosic brushwork. "The Gallery of HMS Calcutta (Portsmouth)" (ca. 1876) is equally incandescent, especially the glistening, intricate white bodice of a dress, partially sheer in the back, worn by a reveler leaning on the ship's latticed metal railing. The artist also evinces a gift for psychological detail in works such as "Melancholy" (ca. 1869), in which a forlorn woman with her head in her hands is watched over by her faithful pup. He sits on the hem of her flowing skirt in case her private reverie is interrupted or she tries to make a run for it.

An elusive figure ahead of his time, unconventional in matters of the heart and art, and unattached to any particular movement — he declined an invitation from Degas to participate in the inaugural Impressionist exhibition in 1874 — Tissot was attuned to the inner lives and outer beauty of women, an unusual trait in a man of his era. Undeniably gorgeous, graceful creatures in splendid gowns and fashionable clothing inhabit the rarified world of his paintings. (Tissot grew up in and around his mother's millinery shop; his father was a drapery dealer.) More complex than their pampered surfaces suggest, they're personages with agency moving through modern society, projecting hauteur, intelligence and self-assurance like the chic attendee of a museum garden party, casting a knowing smile over her shoulder in "The Artists' Wives" (ca. 1883-85).

Tissot, the wry mischief-maker, is on display in "The Thames" (1875), one of several scenes set on or near bodies of water. Controversial when initially exhibited, it depicts a man, two female companions and three bottles of champagne on a river excursion, giving new meaning to rocking the boat.

Through Feb. 9, 2020. www.famsf.org.
Comments on Facebook