'Umbrella Academy's' season two includes gay and lesbian longing, 'Lovecraft Country' inhabits a creepy inherited mansion that leads to frightening netherworld amid real racist horrors, and 'NOS4A2' blends supernatural limos and vampire kiddies.
Viewing 1 thru 12 of 12015 Stories
Medical ethics, journalistic practices, gender politics, body shaming, cancel culture and internet bullying are all on the table in 'Quack,' Eliza Clark's corrosive comedy-drama, now being mounted live-on-Zoom by Berkeley's Shotgun Players.
On third Thursdays, Lisa Geduldig brings us Lockdown Comedy, shows, online via Zoom. This month's show takes place on August 20 and promises to offer lots of laughs. The line-up includes the host's mom, at a senior home in Florida.
Since moving to London with his husband Chris Turner, Bay Area fans of best-selling 'Tales of the City' author Armistead Maupin have missed his local appearances. On August 12, he'll discuss his life and writing with his friend, actor Sir Ian McKellen.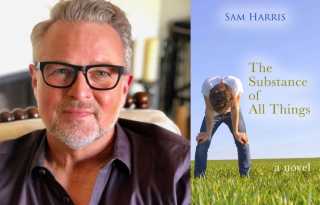 Sam Harris certainly won't be singing in the Bay Area for the foreseeable future. But he's doubled-down as an author. His second book, 'The Substance of All Things,' was published July 1. It's a novel. And it's a knockout.
Seeing as how 'Jack & Yaya' is first-time co-directors Jen Bagley and Mary Hewey's full-length documentary debut, Bagley and Hewey get more right than wrong in their rendering of this touching true story.
New music from Indigo Girls, Gordi, Katie Pruitt, Khruangbin's Mordechai, Totally F*cking Gay, and The Ultimate Peggy Lee collection.
It's only July, but rest assured that 'The Greatest Part' (Captured Tracks), the breathtaking second album by out singer/songwriter Becca Mancari, will not be forgotten when folks assemble their end-of-the-year, best of 2020 albums lists.
Church history, scandals and hypocrisy and international intrigue set in San Francisco and Italy make the author's debut novel an interesting read.
After years of producing straight-only romance films, Lifetime this week announced pre-production on the network's first holiday-themed cable film with gay male leads.
San Francisco Gay Men's Chorus' annual Crescendo gala goes online with honors to singer-actor Billy Porter, activist Ariadne Getty, and special guests Kristin Chenoweth, Alex Newell, Wilson Cruz, and more.
You loved him in 'Unbreakable Kimmy Schmidt ("Peenooooo Noir!") and other shows. Tituss Burgess' newest song, "Dance, M.F.," speaks to us now about letting our inhibitions down in a time of crisis.
TV fans know him for 'American Horror Story,' Broadway fans know him for 'Xanadu' and 'All Shook Up.' Cheyenne Jackson, the handsome singer-actor, performs in an intimate concert fundraiser with our favorite musical theatre wizard, Seth Rudetsky.
Viewing 1 thru 12 of 12015 Stories